Patios
Whether you need a small pad or full backyard coverage, our team of patio specialists can build you a beautiful surface for entertaining and relaxing. Each patio project is unique and our professional staff will visit your home to make sure we understand exactly what you're looking for.
Patios can be customized in many ways to fit your home, needs, and vision:
Simple broomed and brushed natural gray concrete surfaces
Dozens of stamps and patterns like wood, stones, and complex patterns
Beautiful tints and full color blends to match your property and home
Exposed aggregate to create gripping textures and unique flatscapes
Customized borders and cross-sections in different colors and patterns
Walkways
When it comes to paths or sidewalks, BNC specializes in delivering perfectly level traveling paths from any point in your yard to any other. A walkway is the best way to get people to the places you want them. From the driveway to the front door or a complete wrap-around path for the whole house, we can connect multiple buildings or just create a seamless path from your driveway to your door.
Your walkway can be customized specifically to your property:
Curves, bends, corners, and pads along the path let you customize your route
Add stamps to create unique textures like stone, wood, and more
Fully color your sidewalk to match your home
Use exposed aggregate to create a strong gripping texture to prevent slipping
Mix and match patterns, colors, and more for beautiful sidewalks anywhere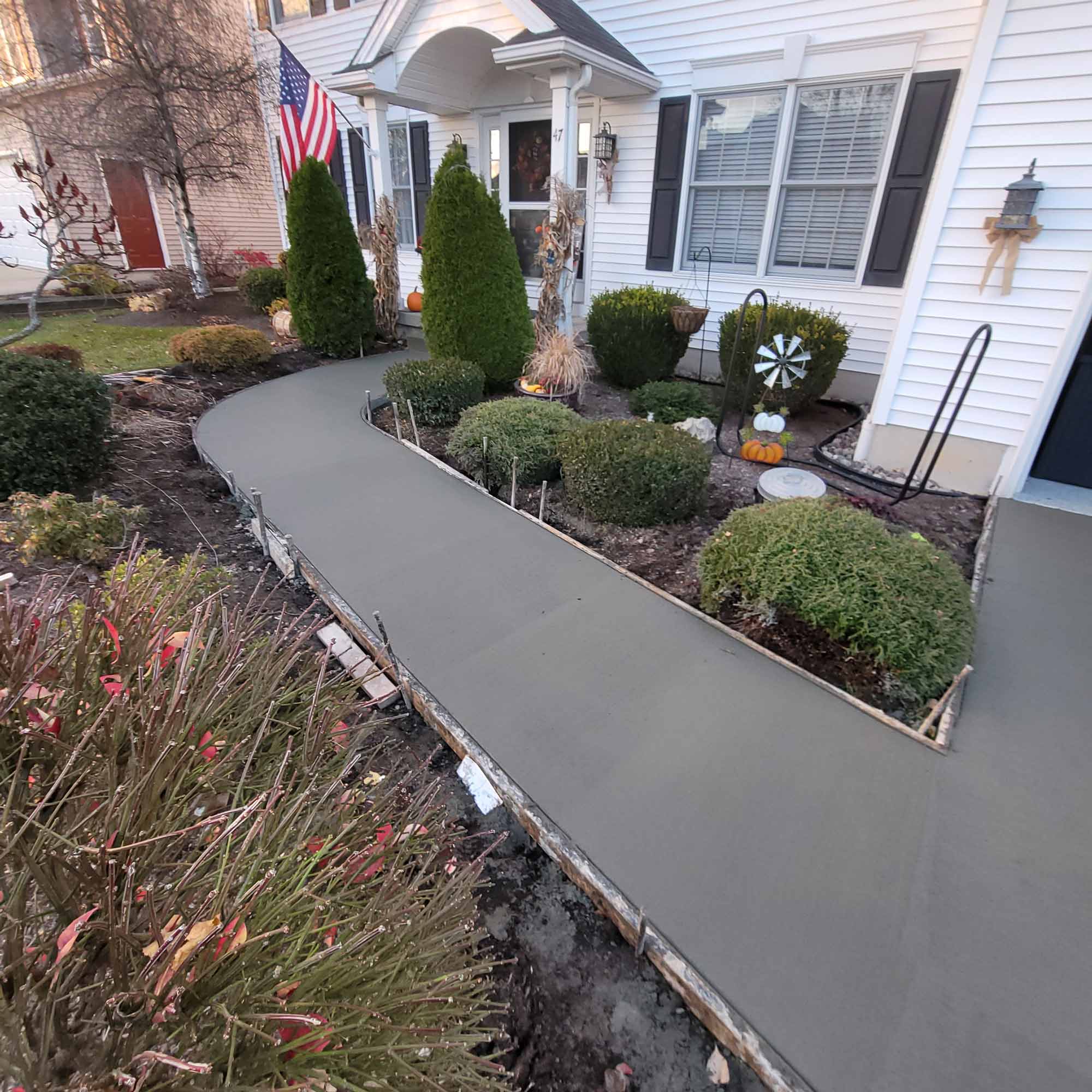 Driveways
The driveway is the first experience your visitors have when arriving at your home. You have plenty of choices when it comes to the surface of your driveway but a concrete one is going to give you the best looking and longest lasting option.
Benefits of a Concrete Driveway:
Long Lasting (Up to 30 years) in comparison to the constant repair of asphalt and gravel ones
Easy Maintenance and Cleaning
Better Reaction to Heat and Light (on bare feet, tires, and home lighting)
Higher load-bearing capacity (non-flexible)
No Messy Surface Issues (like asphalt oils and sticky blacktop in heat)
Environmentally Friendly (less energy to produce and fully recyclable)
Highly customizable with patterns, stamps, and a variety of colors
Helps Properties Sell (Home buyers routinely put more value on concrete)
Easy Snow and Ice Removal (shovel, plow, and snowblower with ease)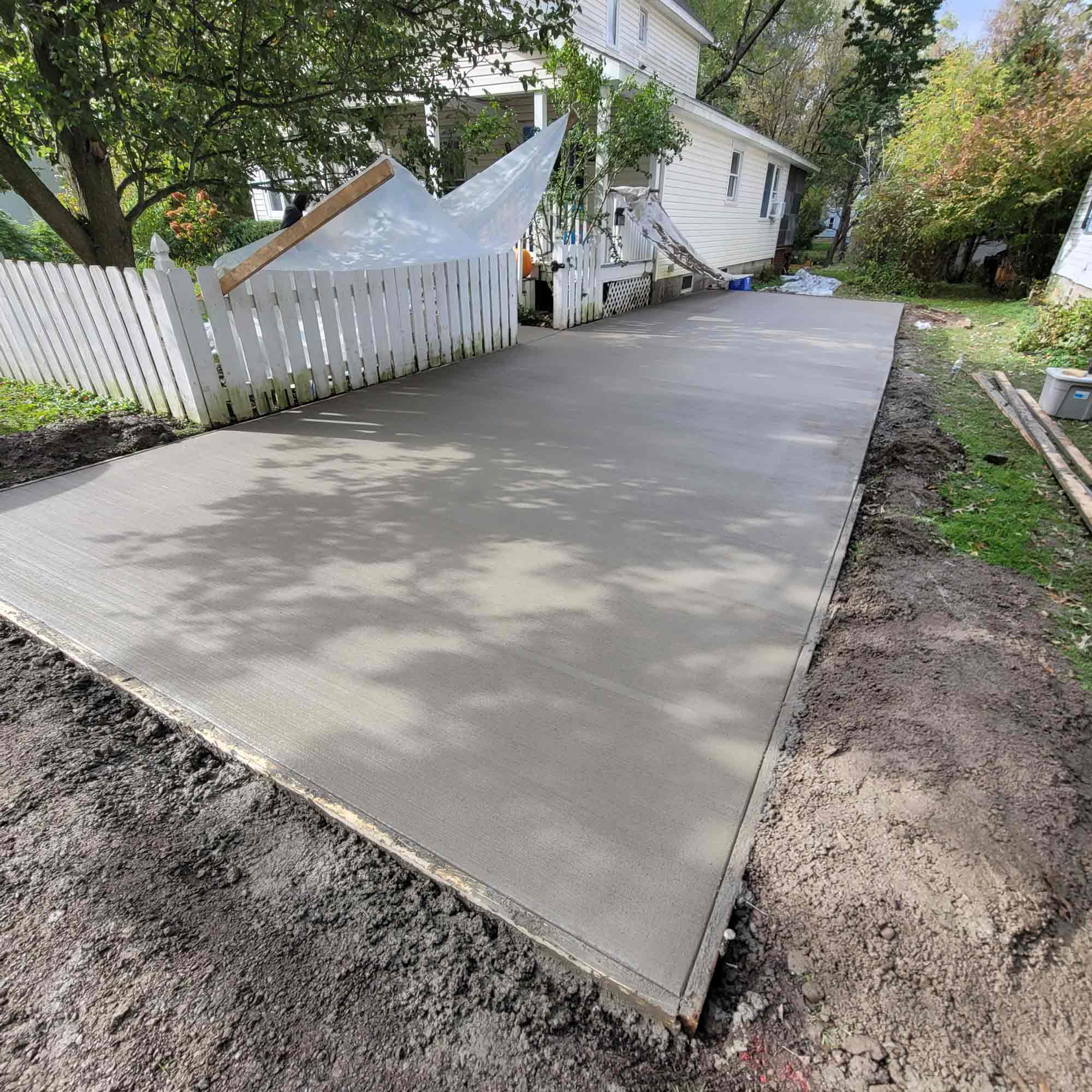 When it comes to gorgeous concrete entrances to your property; look no further than Buffalo Niagara Concrete. One of our teams can be onside quickly to assess, quote, and begin your project this season. Add a custom walkway to your front door or backyard patio to complete the look!
Steps & Stairs
Wood rots and bends and paint chips off until they have to be replaced, repaired, or constantly kept up. With concrete steps we can pour them once and have them last a lifetime. Whether you want to connect an existing walkway to your porch or just want some permanent custom steps to connect your backdoor to the backyard lawn... consider a set of BNC concrete steps that fit your building levels and grades exactly.
Concrete steps can be customized with angles, bends, rounded edges, and wrap around effects.
Choose from tons of colors, stamps, and patterns to make the climb match the rest of the house
From one step to a hundred you can climb any graded property level with beautiful concrete stairs for any outdoor changes in elevation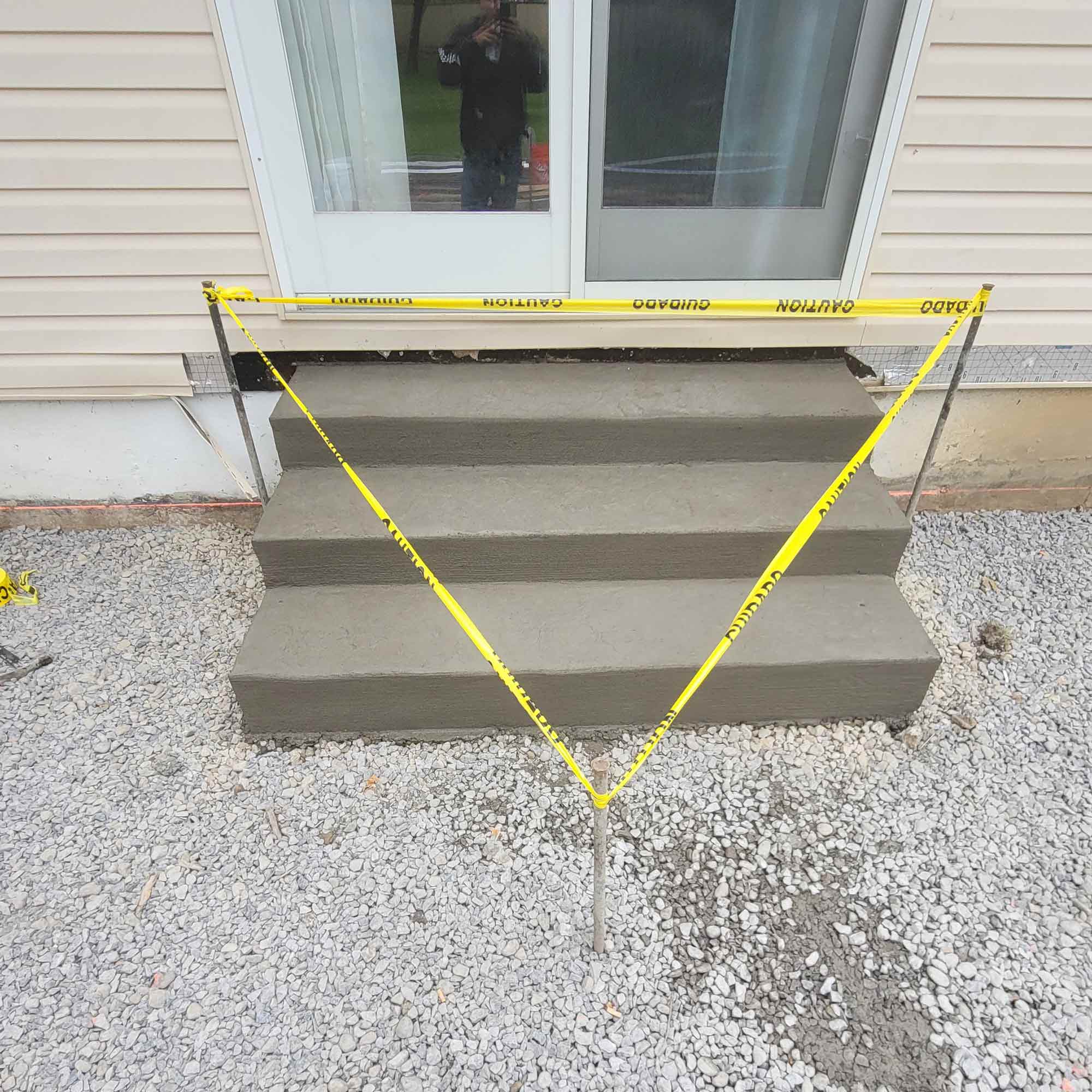 Hot Tub PADS
Once you have that tub full, powered up, and in position you will not want to deal with moving it... draining, cracking, electrical hook-ups, and just being without it. How do you make sure your tub is installed one and done? At BNC we help you lay down fully supported thick slabs of concrete with solid stone packed bases to insure you have the perfect platform for your hot tub relaxation for years to come.
Hot Tub Pads can be poured in any shape with decorative borders and colors that present your tub as a centerpiece of your entertainment area. Connect your hot tub surface with a beautiful concrete patio and decorative sidewalk to finish the look.
Building Slabs
From a small shed to large outbuilding, if you want a long lasting solid floor for your new building, your best choice is to lay down a concrete slab first. The team at BNC can pour you a simple brush/broom concrete surface that can be built on or we can create a beautiful stamped and colored surface for a building that will have an exposed concrete floor.
When putting in a slab for any kind of external building it is important to know what kind of footers, haunches, and underlying support is required before you just lay down some concrete on the ground. Our team works with you, your town requirements, and your general contractor to make sure the surface meets everyone's needs and you have a foundational slab that will last for the life of your building and beyond.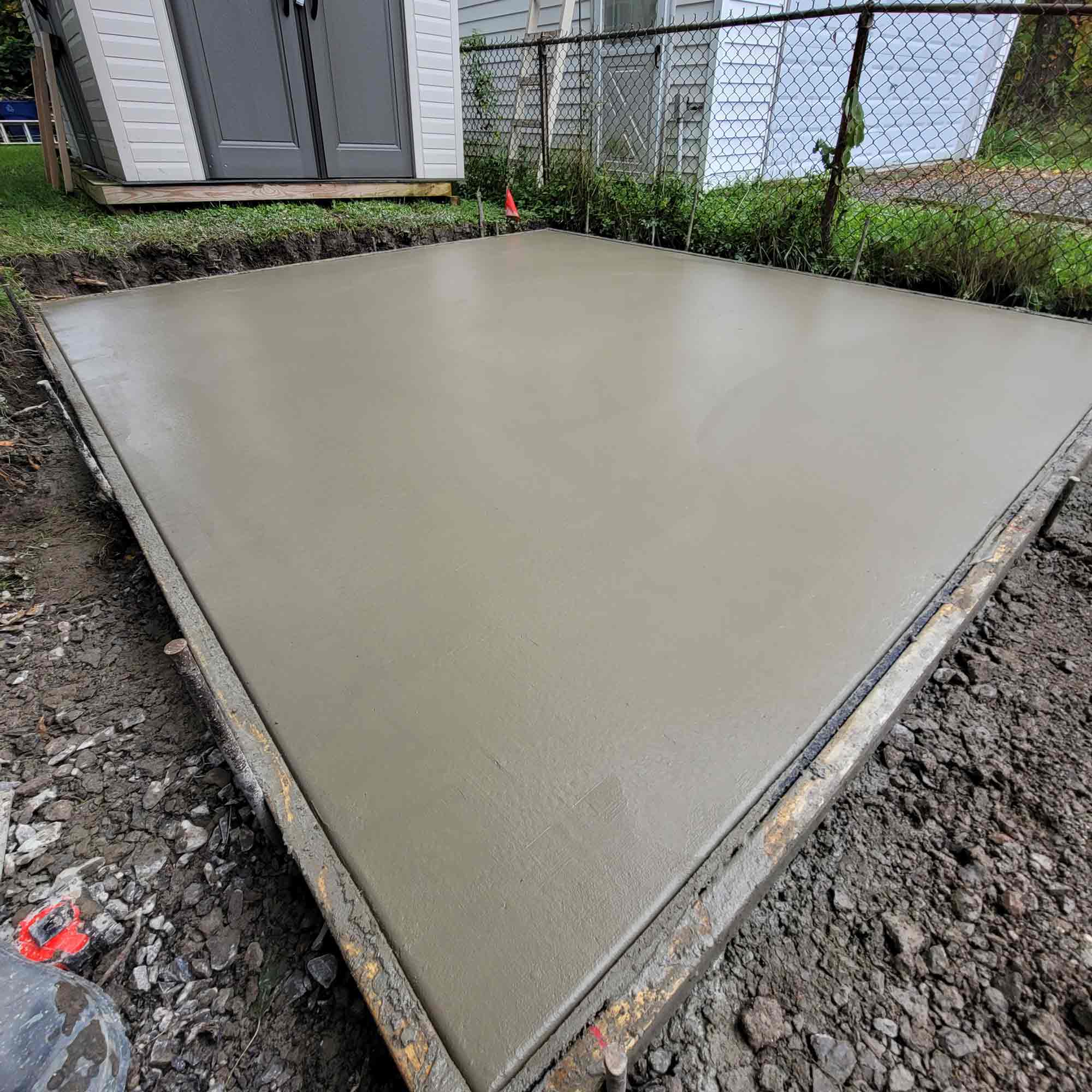 Exposed Aggregate
What the heck is that? Many home owners are not familiar with the exposed aggregate technique used for some concrete installations. At BNC we can work with you to determine if your project would be a good fit for this option. So let's explain it real quick in case you hadn't thought about it before.
What is it?
Exposed aggregate concrete is done by removing the top "skin" of the concrete as it is curing to "expose" the pebble material inside the concrete mixture. This creates a look similar to sprinkled or embedded stones and rock in the surface.
Why would you want this?
The surface is rugged, non-skid, and resistant to heavy traffic and weather extremes.
It's highly versatile and contrasts beautifully with plain concrete or other decorative treatments such as stamping, stenciling, staining, and integral coloring.
Can be combined with other areas of brushed, stamped, and colored concrete patterns to create beautiful combination effects on patios, walkways, driveways and more.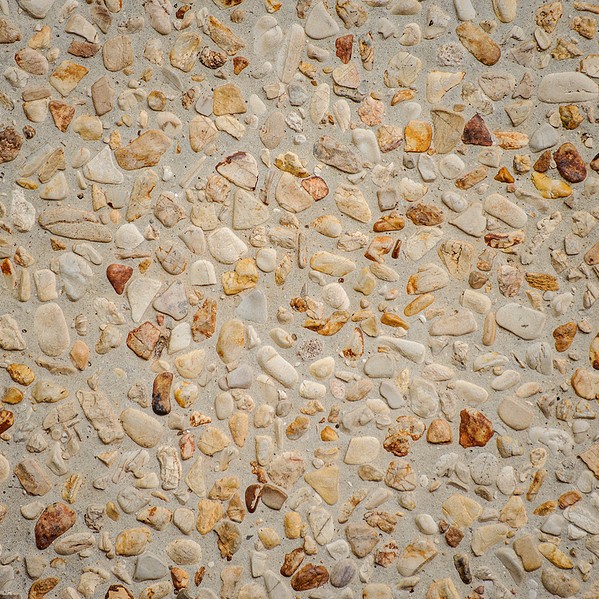 Decorative Stamps
We have all walked on regular ol' brushed flat concrete sidewalks or smooth concrete driveways and patios. In today's world of professional concrete services, you are no longer limited to just the simple flat surfaces. Take a look at our catalog of "stamps" that can give your concrete surfaces a really cool finished look in a huge variety of patterns and styles.
Just a few types of stamps that make your concrete look like something else:
Stone and Slate Textures to look like natural rock and stone pieces
Wood Textures that look like wood planks and boards
Tile patterns like you'd find inside the home
Brick textures to give a laid brick pattern
Subtle or mild textures to give you a creative soft detailed surface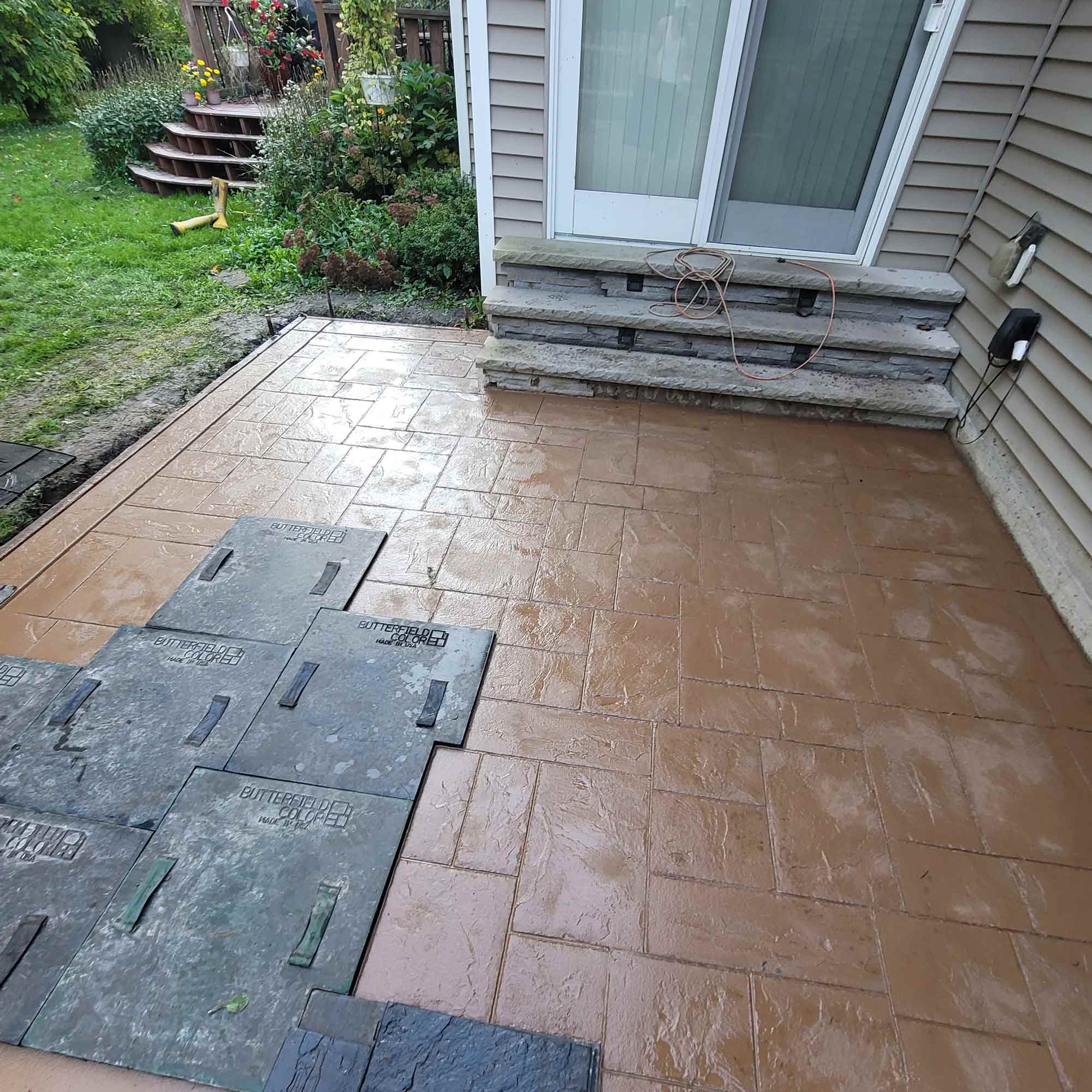 Pattern and Accent Catalog
Buffalo Niagara Concrete is proud to work with the high quality decorative stamps and accessories provided by Butterfield Color (an international supplier of concrete vendor tools and accessories). We have many patterns already available at our facility (ask your provider about the fastest and already available choices). Patterns can be colored or left in the natural concrete shades depending on your needs. The catalog contains over 100 different patterns with details about size, example images where it was used, and available accent choices. As with any supplier product check with us for availability at the time of estimating. Your project manager will be happy to help you pick a best fit pattern for your home.
View Our Decorative Stamp Pattern Catalog
Coloring
Everyone loves the warm and inviting color GRAY. Well, maybe not warm and inviting but thats the color of natural concrete. In today's world of beautiful home concrete services you are no longer limited to the regular old gray concrete. At Buffalo Niagara Concrete we can mix and match a variety of colors to create stunning patterns or full blown color slabs that match your home and property color scheme. Make sure you talk to our team about how affordable the color options can be to add an extra boost to your patio, driveway, or walkway. Take a minute to checkout a sampling of some of our colors available today or ask us if you are looking for something more.
This is just a sampling of colors for reference and ideas. More or less choices may be available at the time of your order. Be sure to speak to your project manager about choices available and any price variances between the colors.